Adobe has released some insanely good updates over the years. One of which is being able to back up all your data into your Creative Cloud storage.
One of the worst things that can happen when doing creative work is your computer's hard drive failing on you, your computer getting stolen, or anything else. It's important to protect yourself against this at all costs! Especially if you are a professional.
The quickest and easiest way to automatically back up your Premiere Pro projects is by using Adobe's built-in Creative Cloud servers. However, I mention other ways to back up further down the blog. Let's get into it.
How to setup project backups for Premiere Pro
I'm assuming you already have Creative Cloud installed on your computer. If not, then install it before we proceed.
Once Creative Cloud is installed, you will see a Creative Cloud folder in your Finder (Mac) and Explorer (Windows).
Step 1. Open Premiere Pro
Step 2. Go to File > Save as…
Go to 'File' > click 'Save as…'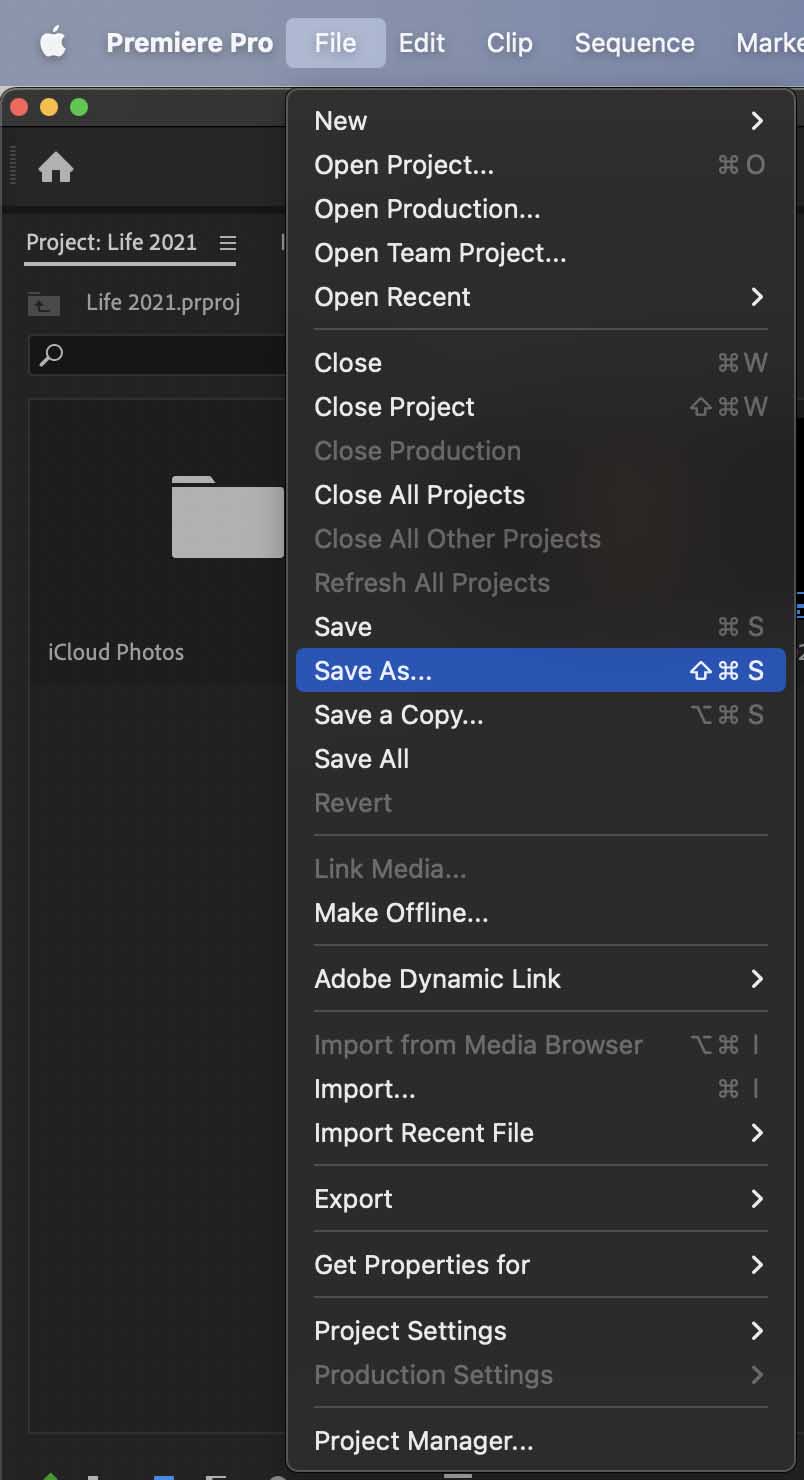 Step 3. Create a 'Premiere Pro' folder inside the 'Creative Cloud' folder
Choose the 'Creative Cloud' folder in your left panel > create a folder called 'Premiere Pro' if there isn't one there already.
That's it
From now on, you should always make sure you are saving your projects in the Adobe Creative Cloud folder, no matter what Adobe software you are using.
This means your projects and data will automatically be backed up to the Adobe servers. This is ideal if you were to ever lose your computer or hard drives would break. Doing this also backs up your autosave projects.
How to use the Premiere Pro Auto Save feature
Step 1. Go to File > Preferences > Auto Save…
Step 2. Edit the settings
Here, you can adjust the settings as desired. By default, the 'Save backup project to Creative Cloud' feature is disabled. I would recommend enabling this feature.
Other methods for backing up your Premiere Pro projects
There are a bunch of ways you can safely back up your projects, but it depends on the user. Here's a list of methods I would recommend as an alternative:
All these methods will have a folder in your Finder (Mac) or Explorer (Windows). You just need to save your projects in the folders created by the program you have installed or the drive you have plugged in.
The online backup systems will automatically backup your projects as you save them. The NAS backup will be a backup of your projects on your NAS.
NAS drives are generally much safer than normal drives because of the RAID system setup. But this depends on what RAID you have. You can learn more here:
Video guide
Summary
There you have it, a super fast and easy way to automatically back up your Premiere Pro projects into Creative Cloud. See our tutorial on the best video editing software and why we believe Premiere Pro is one of the best.