DaVinci Resolve is known for its efficiency, and the software makes editing, creating visual effects, and fixing other aspects of music more accessible. So, how do you add music to DaVinci Resolve?
You can add music to DaVinci Resolve by finding the music clip you want to use and dragging it onto your timeline. You can also use the 'import media' option in the top right corner of the media page. To enjoy the music, adjust the settings to your liking.
In this article, I'll take you through the two methods to add music to DaVinci Resolve quickly & easily. I'll also explain what you can do to perfect the piece. Let's get started!
Two ways you can add music to DaVinci Resolve
Method 1: Drag & drop the file
This method is a breeze. All you need to do is drag and drop the music file onto your timeline. Here's what to do:
Open your media library.
Find the music file you'd like to add.
Drag it to your timeline.
It's as easy as that! You've added music or drum samples to the timeline. With a few more clicks, you can have your project sounding great in no time.
Method 2: Use the media importer
With the "import media" option, all you need to do is:
First, select "File" towards the top-left of the DaVinci Resolve software.
Then, click on the "import media" option. This will open a window where you can browse for the music file you want to add.
Once you've found the file, click on it, and it will be added to your project.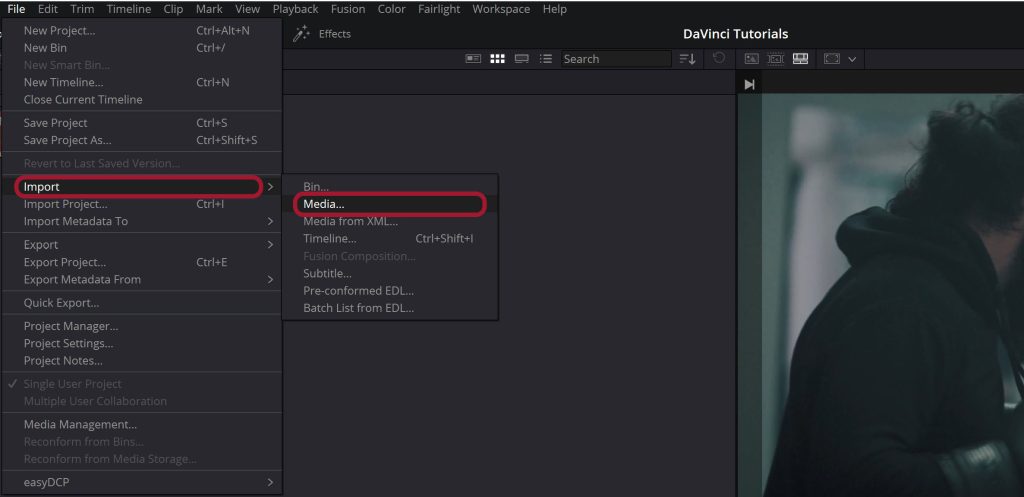 However, this isn't the end! You can proceed to fine-tune the music to your liking.
What you need to perfect your music
For an excellent audio and video outcome, it needs thorough finishing. You can achieve this by editing the music. Fairlight is included with the DaVinci Resolve software and can be accessed by clicking on the music icon at the bottom of the DaVinci Resolve software.
DaVinci's built-in DAW software "Fairlight" makes adding final touches to any music track you have easier.
Fairlight offers a comprehensive set of tools for:
Music Production
Audio editing
Sound design
The program lets you edit your audio as you want. For example, you can add audio effects simply by opening the effects library.
With its intuitive user interface and comprehensive feature set, Fairlight is an excellent choice for professional and amateur producers.
This video demonstrates the basics of using DaVinci Resolve Fairlight. Ensure you check it out if you intend to edit your audio on your project.
FAQ
How do I separate my audio & video from the same track?
Right-click on your track/clip. You should see an option called "Link Clips". Select this, so it no longer has a tick next to the option. Your audio & video should now be separated.
How do I delete audio from a video track?
Separate the audio & video by right-clicking your clip and unselecting the option "Link Clips". Then, select the audio track and tap "Backspace" on your keyboard.
How do I link different audio & video clips together?
Select both of the clips you want to link. Right-click one of the clips and select the option "Link Clips". Your clips should now be merged.
Conclusion
Adding music to DaVinci Resolve is a straightforward process. You can add music to your videos and take your projects to the next level with only a few simple steps. Simply drag and drop the file onto your timeline or use the media importer.